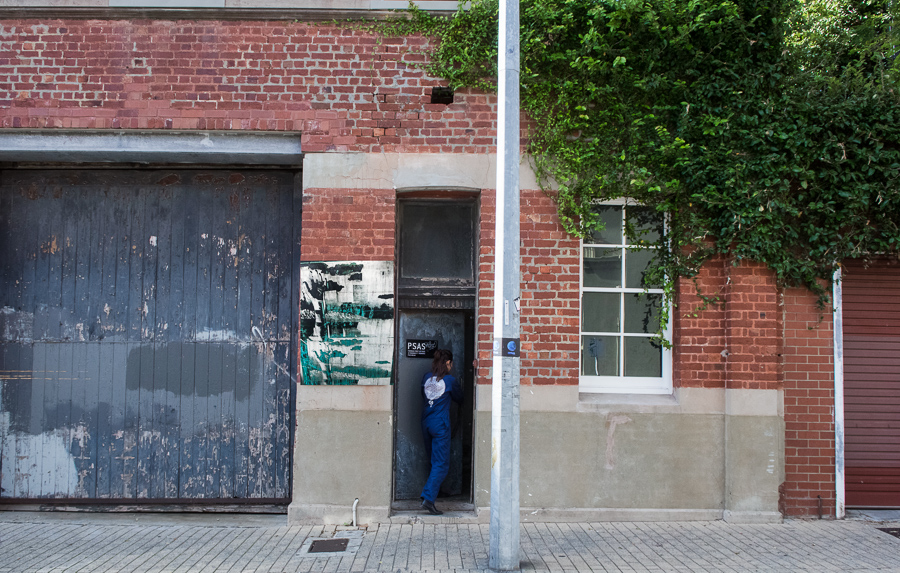 Emily McGuire works with silk screens, words, paint, drawings, concretes and the resonosphere. Her work draws in scientists, medicos, old souls, business people…… and people in pursuit of a brave exploration, be it art, health or business related.
Em's background in materials research + architecture inform her practice and interest in space, sound, materials and the body. She is building an onyx and quartz lined sound sphere – the resonosphere – where people step inside and experience a sensory vibration on the body.  
She has long held an interest in the connection between art + science + health and holds a University of Melbourne Post-Grad Research Masters on the design and CO2 emission attributes of geopolymer concrete. Em is currently prototyping + fabricating early stage sculptural builds for the resonosphere in the magic of the West Australian Goldfields desert.
Em believes art holds vital qualities; an ability to connect people; speak truths, tell stories; and that experiencing art offers people a dimension to step into and more fully resonate in their own frequency, and realise its' transformative power.
Em loves collaboration with other artists, scientists and writers; and lives in Fremantle Western Australia with her family, with many kin East coast. Em is a film + book hound, keen traveller, scaravelli yoga + meditation practitioner, and is partial to wild beaches, botany, cold surf, hot bath under full moon + fire, pencil and paper, laphroaig, red dogs and hearing people's powerful stories.
CV
Resonosphere + Upper Hand Limit + Silk Screens + Last Drillhole_2019
Resonosphere + Hand Installations_2018
Studio practice + materials research_2017
WA World Aids Day Zero Exhibition_2016
Geosonics Sound Space Project_2015 
Endangered Species Series_2015 
ArtShakti. FoodArt. Health. Body_2015 
Design of High Performance Concretes_2008 – current:
[Geopolymer Concrete Digital Imprints, Coloured, 
thermally resistant + acoustic designs; lightweight; semi-translucent finishing panels]
Art for Space-Space for Art Project_2014
Meditate Create Tythe Project_2014
Build Surf Yoga Series_2013
Sound Body Health Project_2012
Module Concrete Shell Housing_2011
House, Fitout + Steel Screens Design + Installations_2002-2012
Steel Screens. Silk Screens. Lighting_2002-Current
Academic
University of Melbourne Post-Graduate Masters Research Scholarship
First Class Honours 2013
Degree Linked Dept Chemical +Biomolecular Engineering Minerals Processing Group + Design Architecture Building + Planning
Geopolymer Concretes: Design + CO2 emissions material performance attributes:
https://minerva-access.unimelb.edu.au/handle/11343/37934
Moss Scholarship Bachelor Architecture Honours:
Affect of Architectural-Spatial Environments on Human Health, case study psychiatric hospital settings + comparing therapeutic models + spatial dynamics.
Registered Architect ARBV | ARBWA | B.Arch Hons
Exhibitions
Studio Exhibitions 2017 – 2019
WA World Aids Day Zero Exhibition_2016
Pakenham St Art Studios Fremantle Western Australia_2015
Shakespeare Grove Art Studios St Kilda Melbourne_2012-2014
Red Box Art Studios Fitzroy Melbourne_2006-2008
Shakespeare Grove Artists Group Exhibition St Kilda_2014
Shakespeare Grove Artists Group Exhibition St Kilda_2013
Studio Group Exhibitions_2009-2012
Swinging Lantern Exhibition Melbourne_2008