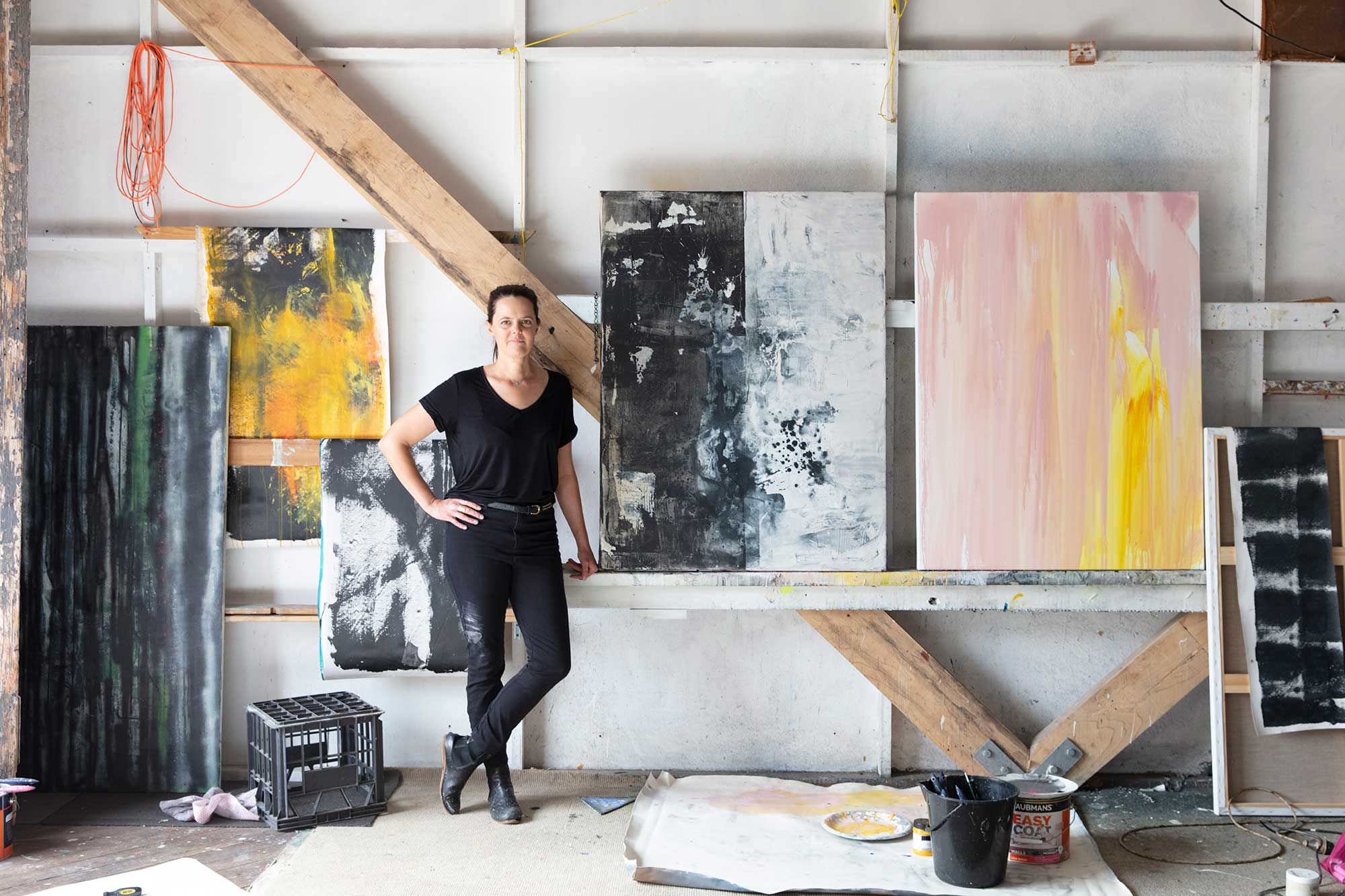 Emily McGuire is a Perth based practicing artist who expresses her interest in space, sound, materials and the body using her skills in drawing, painting, silk screens, text and mixed media. Material research and architecture inform her practice. 
Emily believes art holds vital qualities: the ability to tell stories, connect people and speak truths. Experiencing art allows people to resonate fully in their own frequencies.
Her long held interest in the connection between art, science and health is informed by her University of Melbourne Post Grad focus on the CO2 emission attributes of geopolymer concrete. The three dimensional aspect of her art involves building a sound sphere she calls The Resonosphere that people can step inside to experience sensory vibrations through their bodies.She aims to position this finished interactive sculpture in the desert of the West Australian Goldfields.
Emily invites collaboration with other artists, scientists and writers.
ACADEMIC QUALIFICATIONS
2013  First Class Honours, University of Melbourne Post-Graduate Masters Research Scholarship https://minerva-access.unimelb.edu.au/handle/11343/37934
Moss Scholarship Bachelor Architecture Honours: Affect of Architectural-Spatial Environments on Human Health, case study psychiatric hospital settings + comparing therapeutic models + spatial dynamics.
Registered Architect ARBV | ARBWA | B.Arch Hons
EXHIBITIONS
2017-2019  Studio Exhibitions, Pakenham Street Art Studios, Fremantle, Western Australia 
2016          WA World Aids Day Zero Exhibition, Perth, Western Australia
2015          Pakenham Street Art Studios Fremantle Western Australia
2012-2014  Shakespeare Grove Art Studios St Kilda Melbourne
2006-2008  Red Box Art Studios Fitzroy Melbourne
2014         Shakespeare Grove Artists Group Exhibition St Kilda
2013         Shakespeare Grove Artists Group Exhibition St Kilda
2009-2012 Studio Group Exhibitions, Melbourne
2009         Swinging Lantern Exhibition Melbourne
ARTISTIC DEVELOPMENT 
2019  Resonosphere development, Upper Hand Limit Silk Screens, Last Drillhole artworks
2018  Resonosphere and Hand Installations
2017  Studio practice and materials research
2016  WA World Aids Day Zero Exhibition
2015  Geosonics Sound Space Project
2015  Endangered Species Series
2015  ArtShakti. FoodArt, Health Body
2014  Art for Space/Space for Art Project
2014  Meditate Create Tythe Project
2013  Surf Yoga Series
2012  Sound Body Health Project
2012  House, Fitout and Steel Screens Design and Installations
2011  Module Concrete Shell Housing
2008  Design of High Performance Concretes2002 -2020 Steel Screens, Silk Screens and  Lighting