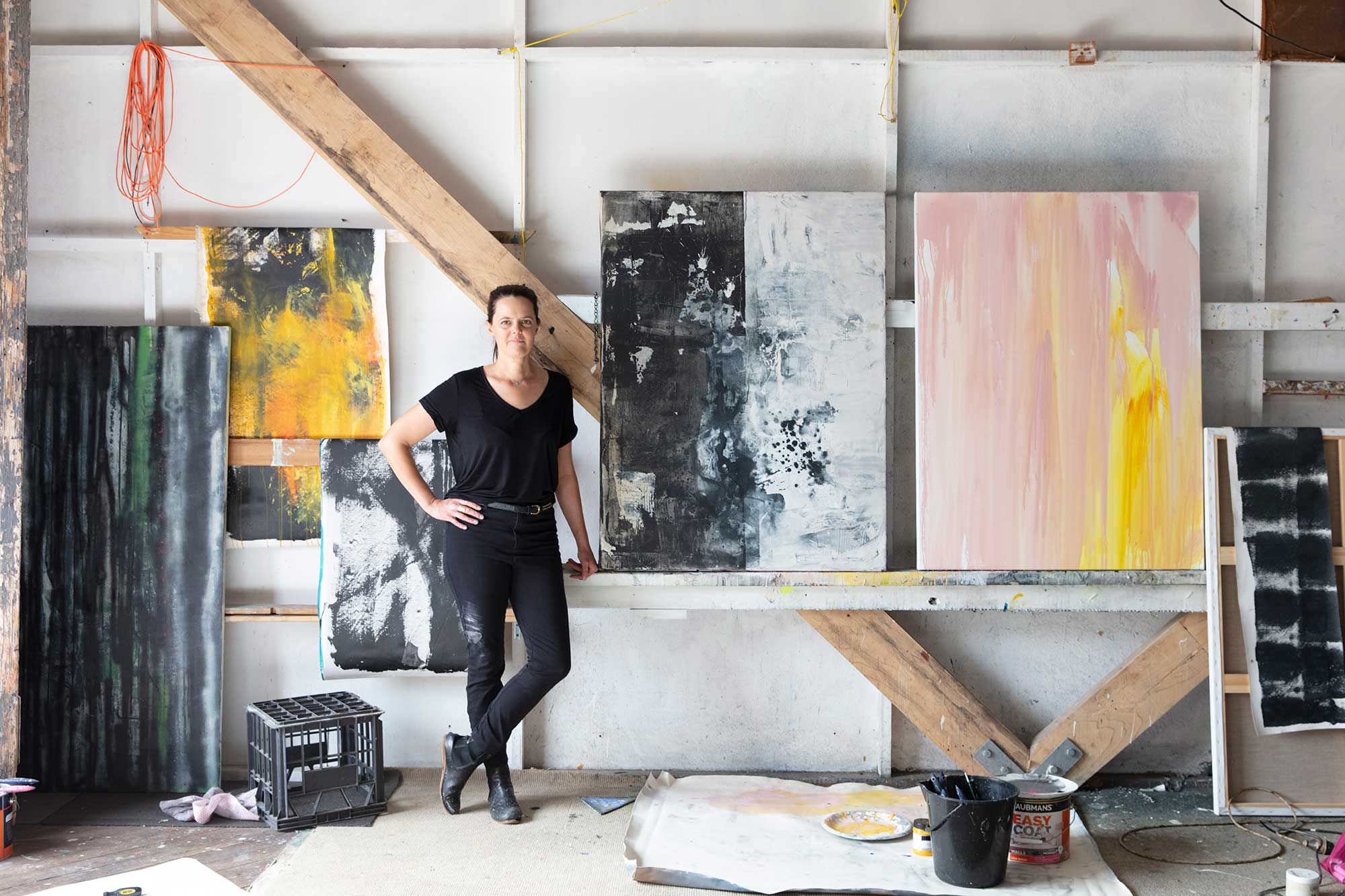 For over two decades, Emily has sustained a persistent arts practice alongside a professional career in architecture and engineering. Her art concepts and making clearly benefit from this experience as well as research into the effects of 'Architectural-Spatial Environments on Human Health' and the 'CO2 emission attributes of geopolymer concrete'. Since returning to Western Australia in 2013, Emily has maintained a studio practice at PSAS in Fremantle.
The act of making, for Emily, is a meditation on transformation through art. Emily's process involves a practice of unravelling the knots of human suffering; deep-diving into what it means to empathise and exploring the pursuit of balance. Her careful arrangements of contrasting elements and materials – often incorporating painting, textiles, and objects – are at once cathartic yet still calmly exploratory, searching for the ultimate frequency. This philosophical, and poetic, approach aims to invoke a resonant feeling of wellbeing in her audience.
2022 Current Post-Grad Study – Fine Arts Honours Year
Bachelor Fine Arts (Hons), The University of Western Australia
School of Design; Faculty of Arts, Business, Law, Education
The University of Western Australia, ARTF2054:
Drawing, Painting and Print studio, 2020
The University of Western Australia, NEURO100:
Neuroscience in Society, 2020
2013 First Class Honours, University of Melbourne Post-Graduate Masters Research Scholarship
Moss Scholarship Bachelor Architecture Honours: Affect of Architectural-Spatial Environments on Human Health, case study psychiatric hospital settings + comparing therapeutic models + spatial dynamics.
Registered Architect ARBV | ARBWA | B.Arch Hon
2022 ION III, Lost Eden Gallery, Dwellingup (Opening Night 28th May 2022)
2021 Lost Eden Gallery, Dwellingup WA, Solastalgia, Group Exhibition & Fundraiser
2021 PS Art Space, Group Exhibition
2020 Shroud, Lvl 1 Gallery, PSAS, Fremantle, Western Australia
2017 – 2019 Studio Exhibitions, Pakenham Street Art Studios (PSAS), Fremantle, Western Australia
2016 WA World Aids Day Zero Exhibition, Perth, Western Australia
2015 Pakenham Street Art Studios Fremantle Western Australia
2012 – 2014 Shakespeare Grove Art Studios St Kilda Melbourne
2006 – 2008 Red Box Art Studios Fitzroy Melbourne
2014 Shakespeare Grove Artists Group Exhibition St Kilda
2013 Shakespeare Grove Artists Group Exhibition St Kilda
2009 – 2012 Studio Group Exhibitions, Melbourne
2009 Swinging Lantern Exhibition Melbourne
2019 Resonosphere development, Upper Hand Limit Silk Screens, Last Drillhole artworks
2018 Resonosphere and Hand Installations
2017 Studio practice and materials research
2016 WA World Aids Day Zero Exhibition
2015 Geosonics Sound Space Project
2015 Endangered Species Series
2015 ArtShakti. Food Art, Health Body
2014 Art for Space/Space for Art Project
2014 Meditate Create Tythe Project
2013 Surf Yoga Series
2012 Sound Body Health Project2012 House, Fitout and Steel Screens Design and Installations
2011 Module Concrete Shell Housing
2008 Design of High Performance Concretes
2002 – 2020 Steel Screens, Silk Screens and Lighting