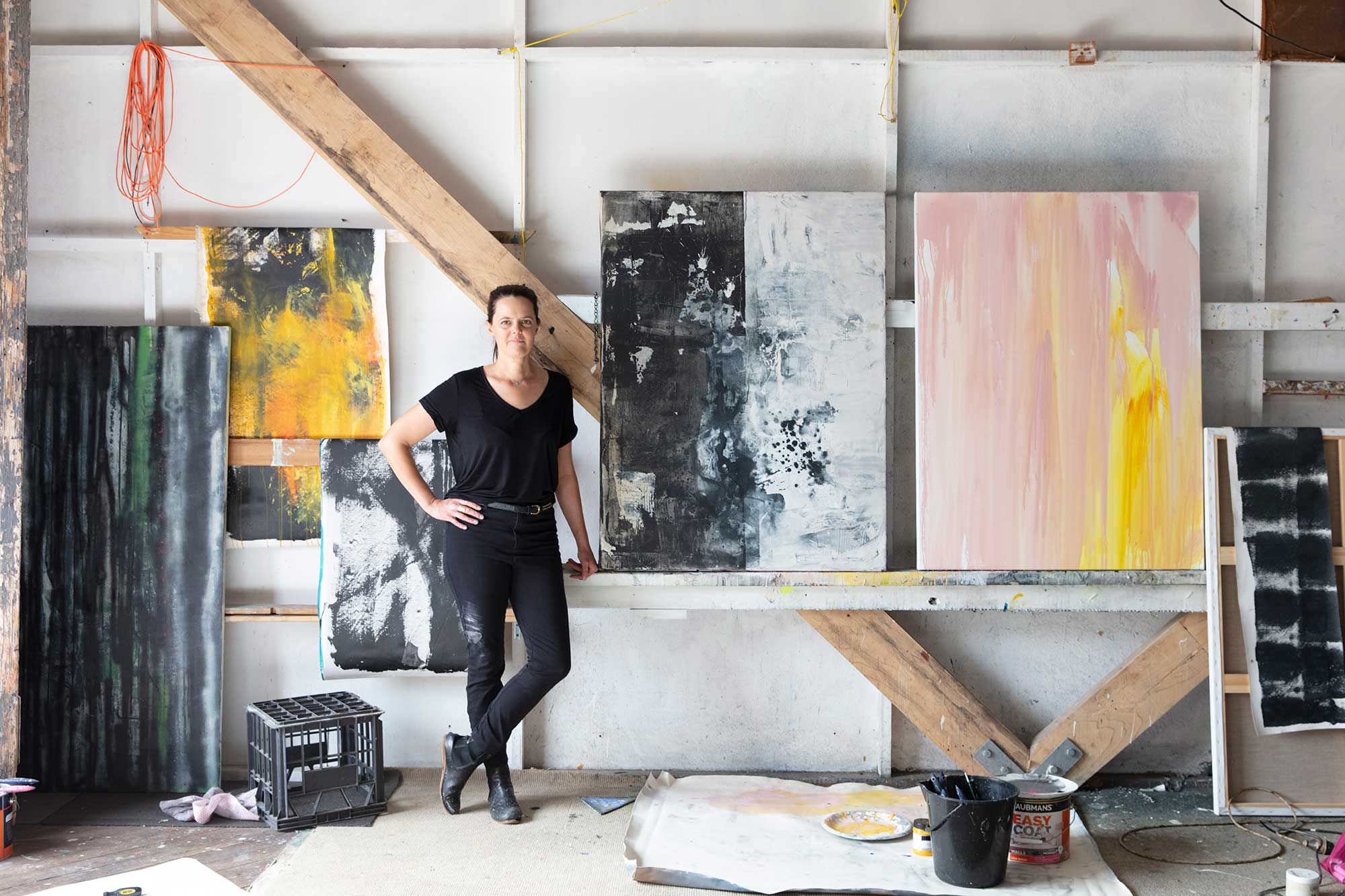 Emily McGuire is an Australian Painter and materials researcher, living and practising on Whadjuk Noongar country in Western Australia.  
Em has a Bachelor of Fine Arts with Honours, majoring in Painting. Emily is an independent artist and researcher working from her studio in Fremantle. Her research interest investigates how the human body interacts with sound, light, materials and space; of people's sensory response to art and how art can contribute to wellbeing and human health.  
Em left her job as an Architect to pursue Fine Art and chase down her goal of creating a semi-translucent sound space for humanity. Architecture does inform her Fine Arts Practice, in particular in painting with aspects of mark making, line, space, form; also contemplating the body and the material, incorporating material installation works, and most of all her sound-material project – the resonosphere, a sensory space for people's wellbeing.
Emily has a MPhil Research in Architecture, with first class honours from the University of Melbourne. Her research investigated silica-activated concretes: in particular design attributes, material performance and carbon dioxide emissions analyses of geopolymer concretes. The Masters Research was co-supervised with Dept ABP and Dept Chemical & Biomolecular Engineering, Minerals Processing, Geopolymers Group at UniMelb.
Em is passionate about transdisciplinary research, and believes through collaboaration we can find powerful ways to generate technology advancement and support human health. Em loves to work with other artists, dancers, musicians. Her current project involves working with a materials scientist, an acoustic engineer, a musician, 3 dancers, a curator…
Her recent exhibition Shroud and Silks Performance (3 bodies, 5 Silks) Em worked with three talented contemporary dancers Briannah, Aimee and Kim to combine visual arts into a performance. A short film about this work, titled  'Shroud' was selected in the Maker and Smith Short Film Festival Selection in 2021 and has been exhibited in Seoul, South Korea and Australia. 
Emily's work incorporates painting, textiles, concretes and steel.